Granger customers in our southern service territory (south of Leslie) and select contract communities north of  Lansing are eligible for blue bag recycling. Although quite a few of you are using this service successfully, it occurred to us that you might still have some questions about how it works. So let's delve into this mystery of the blue bag and find out what's really going on with it.
Blue bag recycling is a great way for you and Granger to work together on recycling. You do your part and we'll do ours. Here's how it works:
Your Part
Step 1—Buy your bags. Blue recycling bags are specially made to withstand the rigors of a compacting truck. The bags are sturdy and the bright blue color makes them stand out from trash bags. You can buy the bags from local retailers, at our Disposal Center of Jackson or online. Read the packaging and look for the word "RECYCLING" on the label. (If you're not sure where to buy bags in your area, contact us for help.)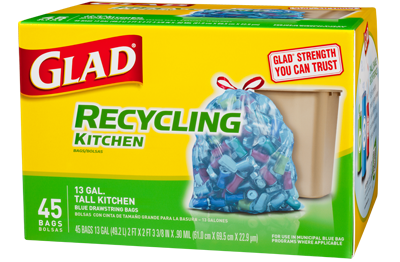 Step 2—Fill your bags. Once you have the blue bag, you can start collecting your recycling. Accepted items for blue bag recycling include mixed paper, tin cans & aluminum, boxboard, cardboard and plastic bottles & jugs. All recycling can be placed together in the blue bag—no sorting is required. (Download a printable PDF of the blue bag recycling guidelines here.)

Step 3—Tie your bags. Make sure your bags are securely closed and double-knotted. (To make it easier, buy drawstring recycling bags.)
Step 4—Place your bags. Put your bags out at the curb with your trash (either inside your cart, next to your cart or on the ground with trash).
At this point, your part as the recycler is done. (Good job!) That's when Granger takes over to finish the next part of the process.
Our Part
Step 1—Collect trash and recyclables. We collect the bags along with your trash. Both the blue bags and your trash go in the same truck.
Step 2—Drop-off disposables. The truck is emptied at one of our transfer stations (Granger Disposal Center of Jackson or Granger Disposal Center of Alma).
Step 3—Separate trash and recyclables. Workers sort through the trash looking for blue bags. The blue bags containing recycling are separated from the trash and taken to a recycling area. While our workers are looking for blue bags, they also find other items, such as cardboard boxes, in the trash that can be recycled and pull those out as well. (That's just a bonus of the blue bag program, unintentional recycling!)
Step 4—Bale and ship recyclables for processing. Recyclable materials (and blue bags) are baled and trucked to a facility where the materials will be sorted by type (e.g., plastic, paper, cardboard, etc.).
(Check out our blog post Where in the World Does Your Recycling Go, Part 2, to find out what happens next.)
FAQs
You might still have some questions about how all of this works. Feel free to contact us for answers, but we'll see if we can anticipate some of them here to save time.
Blue Bag Recycling Service Information
Expand All
|
Collapse All
1.

Can I use bag tags for blue bag recycling?

If you live in an area where blue bag recycling is available, you can use bag tags for your recycling as well. Just make sure you're using the appropriate blue bags so we can tell what's trash and what's recycling. To find out more about blue bag recycling, click here.

2.

What are the advantages of blue bag recycling?

The biggest advantage is that we only use one truck for both trash and recycling. That means the process is more efficient and less expensive (and costs you, as a trash customer, nothing additional).

3.

Who is eligible for blue bag recycling?

Customers in select communities outside of the greater Lansing area are eligible. Contact us to see if you're in our blue bag service territory.

4.

Why can't Lansing area customers use blue bag recycling?

Trash from Lansing area customers goes directly to the landfill, not to a transfer station. Logistically speaking, it's just not practical to sort through trash in the landfill to separate the blue bags. Luckily, there are other recycling options available to Lansing-area customers.

Alternative Recycling Services:

5.

What happens if I don't use special blue recycling bags for blue bag recycling?

If we can't identify the bag as recyclables by its blue color, we won't be able to separate it from the trash. If you use a blue bag that is not a special recycling bag, it may get destroyed inside the trash truck and those materials will not be separated from the trash.

6.

How do you sign up for blue bag recycling?

You don't have to! How easy is that? If you already have trash service and know you're in the blue bag service territory, you can just start putting your recycling out on your trash day as soon as you have your blue bags.

7.

What is blue bag recycling?

Blue bag recycling is a service in which recyclables are placed in special blue recycling bags and picked up with regular trash on trash collection day. Recyclables are separated from trash when they reach our disposal facility. This service is available at no additional charge to trash customers in limited areas.
So, there you have it. The mystery of blue bag recycling is solved. Now if we can just figure out how socks disappear in the dryer …
---
Related Resources