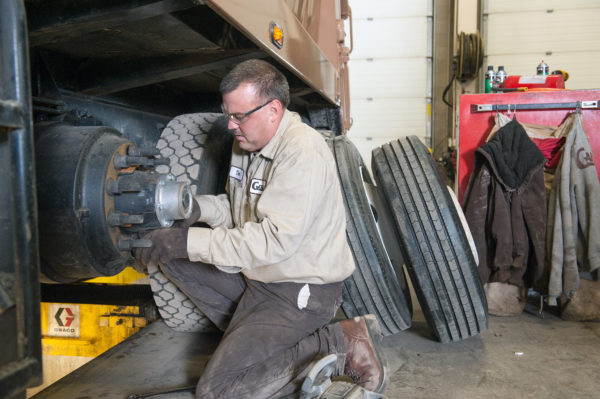 When you think of people who work at Granger, garbage truck drivers are probably who comes immediately to mind. And it's true that the biggest part of our workforce here is drivers. After all, picking up trash and recycling is our main business, and that wouldn't work very well if we didn't have anyone to pick them up. However, it takes many departments and many different types of workers to hold the whole thing together. Here are a few of the jobs at Granger that you might not have considered.
Mechanics—At Granger, we rely on the trucks that make up our hauling business, the heavy equipment workhorses in our landfill and transfer stations and the Bobcats and forklifts used in our Recycling Center and other facilities. And all that equipment not only requires day-to-day maintenance; it also needs to be fixed when it's broken. Sure, we could take our trucks and other equipment to an outside vendor for maintenance and repair, but when you have a fleet the size of ours, you'd be doing that constantly. So, it makes a lot more sense to have mechanics on staff and we have quite a few who reliably service our equipment. At our Lansing facility, we have three shifts of mechanics and one shift at each of our remote locations (Alma, Jackson, Grand Rapids). Our mechanics work in the shops at each facility, as well as manning mobile repair units for trucks and other equipment that breaks down and can't make it back to the shop.
Equipment Operators—Our landfills, Recycling Center and transfer stations require skilled labor to operate the variety of equipment used to complete our daily operations. These associates drive the trash machine in the landfill to compact the trash as it is dumped. This is very important to operations, since it allows us to fit more trash into a smaller space. It's also necessary to use bulldozers to push trash and soil in the landfill, off-road trucks to transport soil in the landfill, Bobcats to move recycling around in the Recycling Center, excavators for landfill construction, loaders to pack trash into compactors at the transfer stations in Alma and Jackson and other equipment and tasks too numerous to mention them all. In short, these operators get a ton of work done!
Engineers—Since we aren't just a hauler and we also own landfills and transfer stations, engineers are an integral part of our staff. We employ several engineers who are involved in various aspects of our business, most notably our landfill operations. Engineers manage environmental and regulatory compliance, interface with regulatory agencies, plan and manage landfill construction projects, coordinate facilities construction and oversee our landfill gas collection program, among other tasks. They make sure projects are completed in a timely fashion and ensure we're following all the rules to be responsible environmental stewards. It's an important job to be sure.
Accounting Staff—Although we don't think about it that frequently, every business needs competent staff in the area of accounting and Granger is certainly no exception. At Granger, these associates are responsible for accounts payable and accounts receivable and payroll. They also have special tasks to complete involving acquisitions and other large purchases. They make sure all our expenses and income are accounted for so we can make informed financial decisions. You can probably agree that accounting staff are necessary to help keep everything on track.
Communicators—Although it can be argued that we are all communicators in some sense, we have some associates who specialize in this area. They're responsible for communicating externally with customers and the general public, as well as internally with associates. They manage the Granger website, blog and social media accounts. These associates are also responsible for building relationships with our communities through tours, presentations, participation and coordination of participation in community events and managing our Corporate Giving Program for sponsorships and donations.
So now you're probably wondering how you get one of these great jobs at Granger. While we might not be hiring for all these positions right now, we're usually hiring multiple associates for multiple different areas. If you're looking for a fantastic place to work (or know someone else who is), it might be a good idea to learn more about what Granger has to offer. To find out about the advantages of working at Granger, visit our Careers page. For descriptions of open positions, click here.
---
Related Resources