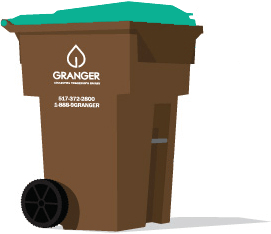 Curbside Yard Waste
Conveniently dispose of brush, grass clippings, leaves and tree trimmings
Capacity: Regular Granger cart (included with service) with up to five additional 30-gallon paper yard waste bags and/or small bundles per collection
Frequency: Once a week, April through November
Availability: Limited service territory
Restrictions: No personal containers may be used. No soil, animal waste, plastic, twine or trash should be included in bags or carts.
Ready to


Start Service?

Check availability and get a quote for your service address.
Brush and tree trimmings should be no longer than 4′ and less than 2″ in diameter. Tie with string or twine into 12″ bundles.
Animal waste, rocks, dirt, sod, plastic and other trash should not be mixed in with yard waste.
Limit the weight of your cart to 200 lbs. Paper yard waste bags should not weigh more than 30 lbs.
Yard waste will only be collected in a Granger yard waste cart, paper yard waste bags or small bundles. No personal containers are allowed.
1. Yard Waste Service Information
Expand All
|
Collapse All
1.

Is yard waste collected year-round?

No. Yard waste is collected from April through November each year.

2.

Do I have to sign up for yard waste service?

Yes. If you'd like to find out if yard waste collection is available in your area and get a quote for adding that service, fill out the request service form (link here).

3.

Do I have to sign up for an entire season of yard waste collection?

Yes. You must sign up and pre-pay for an entire season of yard waste collection. You may begin service after the season has started, but the yard waste subscription rate is the same.

4.

Can I cancel my yard waste service once the season has started?

You can cancel your service if necessary, but a refund for the seasonal charge will not be issued for the unused service.

5.

Do I have to use a cart for yard waste?

No. If you prefer you may use paper yard waste bags, but you may not use personal containers or plastic bags.

6.

What can I put in my yard waste collection?

Approved items for yard waste disposal include the following:

Leaves
Grass clippings
Brush and tree trimmings (no longer than 4 feet and less than 2 inches in diameter)

Please do not include trash, animal waste, sod, twine or plastic with yard waste.

7.

Should I bag my yard waste before putting it in my yard waste cart?

No. Please put only unbagged yard waste in your cart.

8.

Can I bundle brush and tree trimmings?

Yes. Bundles should be 12 inches in diameter or smaller.

9.

Can I schedule a one-time pickup for yard waste?

Unfortunately, we do not offer one-time yard waste pickup. If you need to dispose of yard waste only once or a few times each year, you may bring it to one of our Disposal Centers.

10.

Can I just put my yard waste in the trash?

It is against the law to dispose of yard waste in a landfill in Michigan. Please dispose of yard waste responsibly.