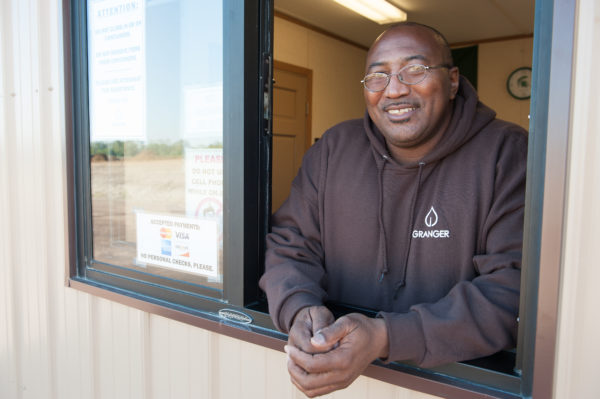 Waste collection is considered an essential service that is vital to the health and safety of our communities. We are grateful and proud of our associates who are out there every day making sure this important work gets done. Their jobs are far from easy, and we know you appreciate them as much as we do. Here's what you can do to help make their jobs a little easier.
Contain your trash—The number one thing you can do to help our drivers and helpers out on their routes is to ensure your trash is contained. Even though they're wearing personal protective gear, we still want to keep them from coming into contact with the trash as much as possible. If you're a residential customer, that means bagging your trash and keep it contained in your cart as much as possible, without overloading it. For commercial customers, help our drivers easily access and collect your trash by making sure all your trash and recycling is inside containers (not piled around it) and containers aren't blocked in any way.
Sanitize your containers—Use soap and water or an alcohol-based cleaning product to sanitize the lids and handles of your trash and recycling containers. The cleaner and more sanitized we can keep the things we touch, the better off we'll all be.
Follow waste acceptance guidelines carefully—Compliance with these guidelines is always important, but even more so during this challenging time. Throwing away prohibited items can cause extremely dangerous situations for our associates on top of the issues they're already facing. View our waste acceptance guidelines here.
Adhere to any special guidelines we've put in place to keep associates safe—We've posted any changes to our operations here. Please review them if you plan on visiting Granger so you can be prepared. We know some of these changes may cause some inconvenience to our customers, but they're being made to protect our associates. Please be understanding and don't ask our associates to make exceptions to these guidelines.
Keep your distance—We're really proud of the relationships our associates develop with their customers. These connections are a big part of what makes our jobs worthwhile. During this time, though, it's important for our associates who interact with customers in person to be able to maintain appropriate social distancing, for their safety and yours.
Hold onto your treats—We know there are a number of you who enjoy thanking your driver with a batch of cookies or a sports drink left on top of their cart. Our associates truly appreciate these gestures and your kindness. But in this uncertain time, it's best not to pass these items along to others.
Thank them in other ways—If you're really disappointed you can't share home baked treats to thank your driver, use another means of letting them know you appreciate them. Submit kudos for your drivers via email to [email protected] or on our website or just give them a smile and a wave when you see them in your neighborhood. If you want to get really creative, you could even record a video of your kids thanking their garbage men and share it with us.