By Taylor Bass, Community Relations and Brand Specialist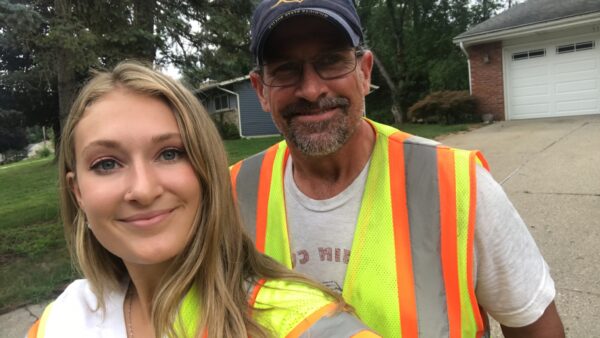 Recently, I had the opportunity to hop up in one of our automated side load (ASL) trucks and spend the day with RJ, a professional driver, on one of his residential trash routes. I had no idea what to expect when I pulled into the parking lot at 6 a.m. I thought it might be an easy day out of the office!
We started our day dumping RJ's load of trash into the landfill. The lightning the day before caused the landfill to close early, so he didn't have the chance to dump it. When we got out to the landfill, it was like a mud bog. Trucks were slipping and sliding everywhere. Any wrong moves, and we were going to be stuck! While we thought we had it in the bag, we got stuck just as we pulled away. A bulldozer came to our rescue and pulled us out of the mud. It was already a rocky start to the day, but RJ kept a positive attitude!
About an hour into our residential stops, I asked RJ if he had ever experienced any technical issues with his truck. He was proud to tell me that he had not in a long time. Little did he know that it was his lucky day … not. We soon had a breakdown and had to pull over and wait for a replacement truck. I must admit it was frustrating. However, I was inspired by how well RJ handled the situation. He just wanted to be sure we were safe, and the job was getting done correctly. I also saw teamwork with the other associates come into play throughout the day because of this situation. Everyone worked together to ensure RJ had what he needed to have a successful day.
The best part of the day was when we stopped at one of RJ's favorite customers' house. The family was waiting on the porch for us with ice-cold waters, a snack and a picture drawn for RJ by one of the kids. The oldest told us that when he grows up, he wants to work at Granger too. It amazed me to see how these kids looked up to RJ. I realized that the relationships the drivers develop are one of most rewarding parts of the job.
RJ's truck was filled with special notes, birthday cards, drawings and holiday cards that had been given to him by customers. When we got back into the truck, I taped the new drawing in the only empty space in the truck's cab.
Toward the end of the day, it began to downpour. During the day, RJ repeatedly ran carts up driveways for those customers who are elderly or have mobility issues. Even when it started to rain, RJ continued to take the carts back in the rain without complaining. He didn't have to do it, but he wanted to! Nothing could ruin his day. Despite the setbacks, RJ and I had a great day together!
In my short four weeks working as the community relations specialist at Granger, I have discovered that working in the waste industry as a garbage man or woman is not a glamorous job, but it is a very important one. Trucks have issues, people overstuff their garbage containers and the landfill can get muddy and difficult to drive through. However, I have never met such amazing individuals who handle dirty tasks with smiles on their faces. RJ and drivers like him throughout the company handle frustrating situations with determination and a good attitude. They take pride in their work, and they do it well! I am proud to work for a company that cares about the planet, our people and getting the job done!