Dear Captain CurbySM: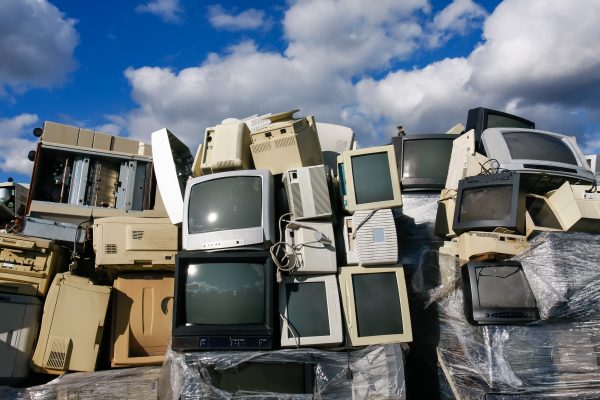 I have a lot of electronic items I don't want anymore like old cell phones and computer keyboards. Is it ok to throw these away?
Bill N.
Holt
Dear Bill:
Thanks for asking! If these are from your home, there's nothing to prohibit you from throwing electronics in with your trash if you wish, but we hope that you will choose a better solution. Though the landfill liner system helps protect the environment from the small amounts of chemicals contained in electronic waste, the landfill's still not the best place for these items. Here are some other options:
Donate—Organizations like Goodwill and Salvation Army will sometimes take donations of electronic items that still work. Check your local outlets for accepted items. You can also look for individuals in your community who are in need of electronics. Put a call out on social media, ask friends or inquire at your church to find people starting over or just starting out who might really appreciate that TV, even though it's not a gleaming flat screen.
Cash in—You never know who might be looking for just the item you have (or its components). Museums, collectors and others may be willing to take that Commodore 64 off your hands and pay you for it. Consider advertising your items on eBay, Craigslist or one of the "For Sale" groups on Facebook. Just remember to be cautious when exchanging goods and information with people you don't know.
Recycle—Like many everyday household items, electronics can be recycled, but it sometimes takes a little digging to find out where. Local municipalities often hold special collection days, so check with yours and mark the date on your calendar. Many retailers also take back electronic items, even if you didn't buy it there. In fact, Michigan law requires manufacturers selling TVs and computers in the state to have a free recycling program for households and small businesses. (See the Michigan Department of Environmental Quality's website for more information.)
If you have tried all these options, as a last resort, you can fill out a bulk pickup request or visit one of our Disposal Centers.
But no matter what you do with your old electronics, remember to remove all files, contacts and personal information from them first.
Your friend,
Curby

Captain CurbySM
Captain CurbySM is the official mascot of Granger. With more than 30 years of experience in the waste industry, Curby's passion and knowledge for waste and recycling is truly special. In his free time, Curby enjoys being involved in the community and inspiring others to be faithful stewards of the environment.
Email Curby at [email protected].
Have a question for Captain Curby? Email us at [email protected] and be sure to put Dear Captain Curby in the subject line.
---
Related Resources