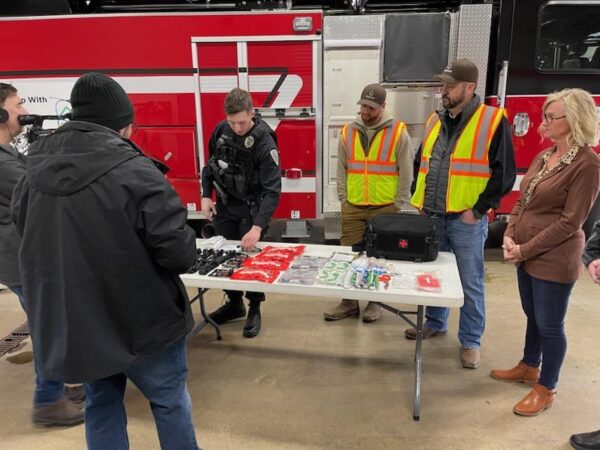 Blackman-Leoni Public Safety is pleased to announce the purchase of seven mass casualty trauma kits. These compact kits will allow a single public safety officer to simultaneously treat four to six patients with life-threatening traumatic injuries caused by shootings or explosions. The kits could be used during a mass casualty situation, such as with an active shooter or industrial explosion.
While Blackman-Leoni could previously treat these injuries, the acquisition of the kits will allow first responders to act more rapidly to situations like these in the future. Having the kits greatly enhances the ability of public safety officers to respond to mass casualty incidents and allows them to begin life-saving care in areas that are not safe for non-cross-trained personnel to enter.
Blackman-Leoni Public Safety Representative David Grumhaus said, "We submitted grant applications to multiple organizations in the hopes that we would be able to fund this worthwhile project. Granger and Dawn Foods stepped up to make a life-saving difference in our community."
Funding for the kits was provided by local businesses, Granger Waste Services and Dawn Foods. Granger provided funding for five of the kits and Dawn Foods funded two additional kits. The kits cost $900 each.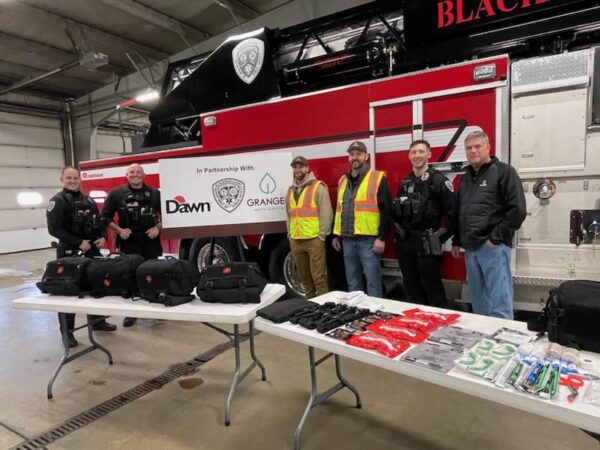 Granger Waste Services representative, John Zimmerman, stated that donating to the project was a way to support a cause of great importance. "Blackman-Leoni Public Safety – police, fire, and EMS daily engage in life-saving work in our community. We saw this donation as an opportunity to support their work and help the people in the Jackson area. The right tools, preparation, and precautions are critical in these types of situations. We want our public safety officers to have the tools necessary to serve our community."
"Dawn is proud to partner with the Blackman-Leoni Public Safety team to ensure local first responders have the tools they need to provide vital care for our community," said Steve McClure, Director of Global Safety for Dawn Foods. "Taking care of people is our top priority as an organization. Supporting the safety of our community is in line with our own Dawn values and the responsibility we have as an organization to make a positive impact in the community."
The trauma kits will be kept on hand in medically licensed fire apparatus and select police vehicles.
About Blackman-Leoni Public Safety
The Blackman-Leoni Township Department of Public Safety provides police, fire and emergency medical services to the residents of Blackman Township and Leoni Township.
About Granger Waste Services
Granger Waste Services is a Christian, family-owned company guided by the Golden Rule. The company provides waste hauling, disposal and recycling services to a growing service territory headquartered in mid-Michigan. Visit www.grangerwasteservices.com to learn more.
About Dawn Foods
Dawn Foods is a global leader in bakery manufacturing and ingredients distribution. As the partner of choice for inspiring bakery success every day, Dawn Foods is committed to delighting its customers around the world with the partnership, insights, innovations, bakery products and expertise that empowers them to achieve their aspirations. Headquartered in Jackson, Michigan, Dawn Foods has more than 4,000 Team Members globally and provides high-quality bakery products to more than 50,000 customers located in more than 100 countries. For more information about the company, its products, and its culture, please visit www.dawnfoods.com.