We've all been there. You come home from work in the evening and go to wheel your Curby cart back to the garage, only to find that it's still full of trash. At this point, you may be wondering if we made a mistake or if there is something you didn't do correctly. If this happens to you, don't despair. Chances are it's for one of these reasons:
Your trash was not out early enough. Now you may be thinking, my driver comes every week on Tuesday at noon like clockwork. If I got it out a little later than usual, it's no big deal. But things in the world of trash collection are not always that simple. Remember, we don't guarantee a trash pickup time, we only assign a day. Many things, such as route changes, truck issues and weather can influence your trash pickup time. To ensure it is picked up, the best thing you can do is have it out there the night before your collection day.
We just messed up. We do our best to make sure we provide you with the best service possible, but occasionally, we might miss picking up your trash. When that happens it could be because you're new to the route, we've had route changes or we have a new driver working who doesn't know the route as well. It's never because we want to be mean.
There's a holiday or weather delay. It's rare, but every once in a while we'll cancel service if it's not safe for our drivers to be out on the roads. We'll also delay service by one day during the week of a major holiday (New Year's Day, Memorial Day, Independence Day, Labor Day, Thanksgiving and Christmas Day). The best way to stay in the loop is to sign up for service alerts. Just use the handy email sign up button at the bottom of the home page. You can also view our holiday schedule here.
You forgot to pay your bill. We'll send you notices first, but if you still don't pay your bill or make payment arrangements, we will put you on stop service. If this happens, you'll need to call and make a payment before in order to start your service again.
There is something in your trash we can't or won't take. If you get home and find one of those green stickers on your Curby cart or bag, you know it's because there was something that shouldn't be in your trash. And usually that's because putting it in the trash would inhibit safety, break the law or make things messy (though sometimes trash is just messy anyway).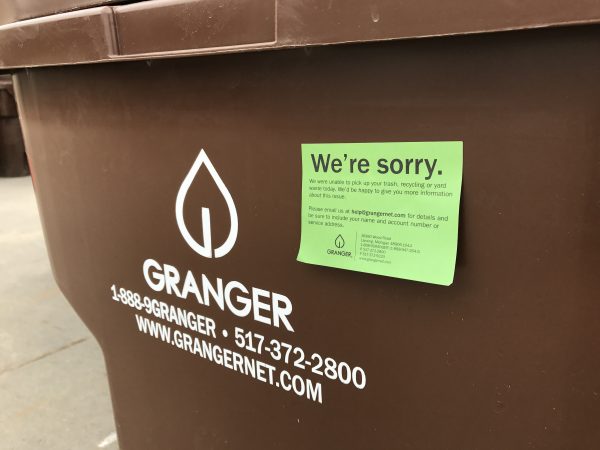 If you have a green sticker, you can email us at [email protected] to find out why it wasn't picked up, but here are a few things that might cause you to get a green sticker:
Overweight—Sometimes your cart or bags are too heavy and they can cause injuries to our staff and damage to our equipment.
Liquids—We ask that you not put liquids in your trash since they can leak out of our trucks and cause other problems. It's also against the law to put liquids in the landfill.
Sharps—If you have needles or other sharps in your trash, we ask that you package them properly by putting them in a commercially available sharps container or a plastic detergent or bleach bottle with the lid taped shut.
Flammable or hazardous material—We are prohibited by state law from taking these items due to safety and environmental concerns.
Yard waste—We cannot take yard waste with trash collection since these materials are banned by state law from landfills. (Learn more about our seasonal curbside yard waste service.)
Unbagged material—We ask that you bag all trash in your cart to help keep your community tidy, as well as to protect our drivers from items blowing in their faces.
Bulk item—Some items need a special truck and collection in order to be picked up. They can't be serviced on your regular trash day with your regular truck. Request a bulk item to be collected from your home here. 
The good news is that all is not lost if your trash doesn't get picked up. We'll be back again next week and we'll take your extra materials then. If you have too much trash and can't wait until next week, contact us for other options.
---
Related Resources