You're moving. It can be a busy, stressful time and the last thing you will probably be thinking about is your trash service. Luckily, we've thought about it for you. Here are some things to remember when you're getting ready to make a big move.
Transferring/Canceling Your Service
We hope you're happy with your service and that we'll be following you to your new home. To make a change to your service, simply give us a call and we'll be happy to walk you through it.
You probably want to keep the same service level you currently have, especially if you like to make things simple. However, not all areas offer the same services. You may find that new services are now available to you, so be sure to ask.
Take note of your new collection day(s) because they will likely be different. Remember, you have a collection day, not a time, but we also have different starting times in different areas. Although in most of our service territory we ask you to have your trash out by 7 a.m., in some areas it's 6 a.m. or the night before. Be sure you know when service starts in your new location.
If you're moving out of our service territory or to an area where we can't provide service, we'll be sad to see you go. Make sure you leave us a forwarding address since you may be due a refund for any unused service or may need to receive a final bill.
Carts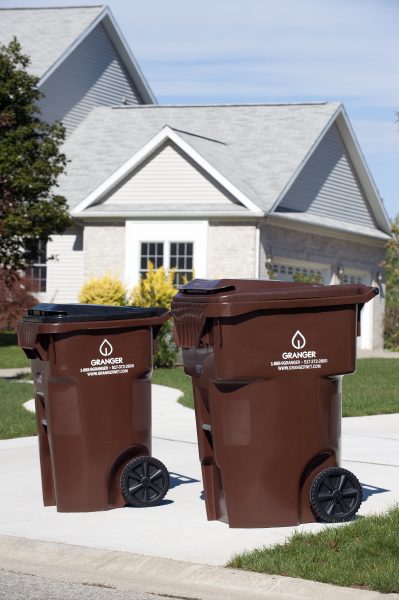 The best thing to do is to take your cart(s) with you. Because we only deliver carts once a week to each area, there may be a slight delay with getting new carts; if you take your cart(s) with you, it may eliminate delays.
If there is some reason you can't take your cart with you, let the customer service representative know when you call to transfer your service and leave your cart out at the curb to be picked up. We'll deliver a new cart or carts to your new home on the next available delivery day. The service day at your new home may come before your cart delivery day. In that case, just put your trash out in bags or use another container until your cart(s) arrive.
If you're moving out of our service territory, the customer service representative will let you know when your cart will be picked up.
Extra Trash
Most of us use moving as an opportunity to purge some junk from our lives. Depending on how long you've lived in your current home and how attached you get, you will have a little more or a lot more trash to dispose of when you get ready to move. We have options to help you.
Boxes
Moving inevitably means lots and lots of boxes. Once you start getting unpacked in your new place, you'll need to do something with those boxes. Here are a few options:
Help out friends or coworkers who are getting ready to move by passing your boxes along to them.
Recycle your boxes at one of Granger's Recycling Drop-off Centers.
Put them out with your trash or recycling at your new home. We'll take extra boxes at no additional charge for the first couple weeks. They should be empty and broken down. Please note, however, that boxes put out with your trash will be taken to the landfill to become renewable energy.
If you have any questions, you can always contact us at [email protected] or speak to a customer service representative at 1-888-947-2643.
Enjoy your new home!
---
Related Resources